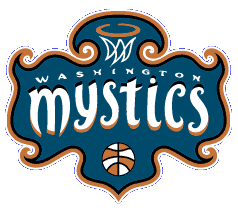 News
Chamique News
Last Games
Articles
Next Games
Column
Archives

Facts
Statistics
Biography

Interactive
Poll
Quiz
Contest
Feedback
Special
Site News
Credits
Links
Literature

Chamique Holdsclaw traded to Los Angeles Sparks


9/12/2004 9:00 PM
By: Capital News 9 web staff


03/21/05 - Women's National Basketball Association (WNBA) Washington Mystics
Washington, D.C.–– Washington Mystics General Manager Linda Hargrove announced today that the team has acquired Forward Delisha Milton-Jones from the Los Angeles Sparks as well as the 13th pick in the 2005 WNBA Draft for Forward Chamique Holdsclaw.

"We have a lot of confidence in Delisha and her abilities. Having won two WNBA championships, she brings that experience as well as leadership to our team," said Hargrove. "She has the intangibles that will help us take the steps necessary to become a contender for the Eastern Conference Championship."

In six seasons with the Sparks, Milton-Jones averaged 30.4 mpg, 11.4 ppg, 6.0 rpg and 1.8 apg. She was a member of the Los Angeles team that won back-to-back championships in 2001 and 2002. In post-season play, Milton-Jones averaged 34.4 mpg, 12.8 ppg. 6.20 rpg., 2.5 apg., and 1.57 spg.

In 2004, Milton-Jones started 19 games for the Sparks where she averaged 9.8 ppg, 4.7 rpg and 1.21 spg., before being sidelined for the rest of the season with a knee injury.

A 6'1 forward from the University of Florida, Milton-Jones was selected in the first round (fourth overall) in the 1999 WNBA Draft by the Los Angeles Sparks. In 1997, she was named the SEC player of the year as well as the Wade Trophy winner. She also earned All-American honors from the Associated Press, Kodak and Basketball Times.

"We're extremely excited to acquire Delisha Milton-Jones," said Mystics Head Coach Michael Adams. "Delisha brings championship experience to our roster and will provide leadership as we look to improve on last season's finish. While we are excited about adding Delisha to the roster, we will certainly miss Chamique. In my first year as a head coach, I feel very fortunate to have coached a player of the caliber of Chamique Holdsclaw. She will truly be missed by the Mystics organization and we wish her all the best."

Chamique Holdsclaw was selected in the first round (first overall) of the 1999 WNBA draft by the Washington Mystics. In six seasons with the team, she averaged 18.3 ppg, 9.0 rpg and 2.5 steals. She was named the 1999 WNBA Rookie of the Year.

"On behalf of the organization, I would like to thank Chamique for her service to the Mystics," said Washington Sports and Entertainment President Susan O'Malley. "Obviously, Chamique went through a very trying time personally last season, and we have attempted to support her in every way possible. When she asked us to consider trading her for a fresh start, we felt it was best for everyone to honor that request. We wish only the best for Chamique both personally and professionally."

"I want to express my deep appreciation and gratitude to the Washington Mystics fans for their unwavering support, kindness and loyalty during my six years with the team - - especially during the tough times of this past season. I know that I greatly benefited from my experiences in Washington which will help me both personally and professionally as I move on," said Holdsclaw.



---
Have you Read Chamique's Book?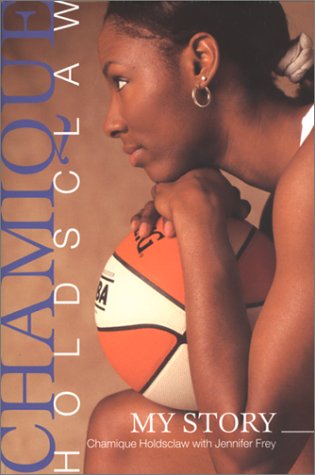 From a back lot in Astoria, Queens, to Rookie of the Year for the WNBA's Washington Mystics, here is the exciting life story of the athlete some people have called "the female Michael Jordan." In her own words, Chamique tells the inspiring story of her grandmother who raised her; the college basketball coach who challenged her; the fans who adore her; and her amazing success a an athlete who has changed the face of women' sports forever.
---
Mystics stay alive, Comets knocked out


WASHINGTON (AP) -- The Washington Mystics kept their playoff hopes alive Sunday, while the four-time WNBA champion Houston Comets' dreams of a fifth trophy officially came to an end.

Alana Beard overcame early foul trouble and scored 21 points as the Mystics (15-16) won their third in a row with a 75-63 victory over the Comets (12-18), who were eliminated from postseason contention.

The Mystics are 2-0 since three-time All-Star Chamique Holdsclaw announced she would not return this season because of an undisclosed medical problem, and 5-3 since in the eight games she's missed.

The Comets lost four-time All-Star Sheryl Swoopes with 13:24 remaining in the first half when she sustained a left-eye contusion while battling Chasity Melvin and teammate Michelle Snow for a loose ball. Swoopes returned to the bench for the second half but did not play.

"When you lose one of the best players in the game it affects the game, but we have to find a way to overcome it," Houston coach Van Chancellor said. "Washington found a way to overcome [the loss of] Chamique Holdsclaw and we need to do the same."

"The bench play was big time today," said Beard, who picked up her third personal midway through the first half. "They did an awesome job in the first half keeping us ahead and they finished the game very strong."

Mystics backup point guard Tamicha Jackson scored 11 points on 5-of-9 shooting. Reserves Aiysha Smith added six points and Coco Miller five.

"Alana was in foul trouble so I was ready to get into the game," Jackson said. "Our team chemistry has been great throughout the season and it has really shown in our play down the home stretch."

Melvin added 11 points and Murriel Page had eight points and a team-high eight rebounds. The Mystics closed on a 6-0 run, capped by Beard's layup with 34 seconds remaining.

"If we continue to play as well as did today then we have a good shot at the playoffs," Mystics coach Michael Adams said.

Tina Thompson scored 17 points to lead the Comets, who have lost four in a row and eight straight on the road. They fell four games behind Phoenix for the fourth and final playoff spot in the Western Conference with four games remaining. Phoenix owns the tiebreaker after beating Houston twice this season.

Beard shot 10-of-15, grabbed six rebounds and added four steals.

Felicia Ragland and Dominique Canty each scored 11 points for the Comets.

Beard scored eight points during the Mystics' 10-2 run early in the second half to open up a 49-40 lead.

Sheila Lambert pulled Houston within one point at 54-53 early in the fourth, but the Comets never got any closer.

Thompson scored seven of Houston's first 11 points, and the Comets led most of the first half before the Mystics took their first lead at 28-26 on two free throws by Stacey Dales-Schuman with 3:04 remaining.

Copyright 2004 Associated Press. All rights reserved. This material may not be published, broadcast, rewritten, or redistributed.
---
Mystics' Beard flashy in debut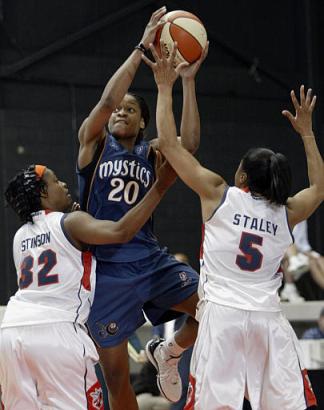 Judging by her performance in yesterday's controlled scrimmage against the Charlotte Sting, prize rookie Alana Beard of the Washington Mystics could become the nation's capital's latest sports star. Beard, selected by the Mystics with the second pick in last month's WNBA Draft, clearly was the best player on the floor. Despite being less than 100 percent because of a sore groin, the 5-foot-11 Beard justified her lofty draft status.
---
Verizon Literacy Champion
Chamique is now another kind of champion -- a Verizon Literacy Champion. Through the Washington DC Reads awareness campaign, she is lending her image to help DC LEARNs and its 42 literacy affiliates make Washington, D.C., a more literate city. The goal of the campaign is to inspire everyone to get involved with improving literacy in Washington, D.C., through posters, media and literacy events. This promotion encourages all to "Get in the Game. Pick up a Book!" To find out more about literacy in Washington, D.C., go to www.dclibrary.org/dclearns.
More On Story
---
Holdsclaw Breaks UT Scoring Mark
Holdsclaw became Tennessee's All-Time leading scorer (2,802) passing Alan Houston. She also recorded her 1,200th rebound.
---
Holdsclaw, Peck: top player, coach
SAN JOSE, Calif. -- Tennessee's Chamique Holdsclaw, already the first three-time All-American, achieved another breakthrough Thursday when she became the first to repeat as The Associated Press Player of the Year in women's basketball.
---
The Women Behind The Women
June Holdsclaw offered a stable environment, a structured home and a dedication to her granddaughter that Chamique thrived on.
More On Story


"What a great honor it is to get to play with one of the very best to play the women's game. Chamique is, as I've come to realize, another great person, great basketball player and great leader. She possesses a consistency and demeanor that says "come follow me." When you play with great players, you yourself can only improve. So, obviously, I'm thrilled to play with her!"

--Mystic's Guard Stacey Dales-Schuman--
Next Games
Last Games
Wash at San Anto.,
Wend, Sept 15 @ 8:00
Hous at Was
75 - 63
Wash at Phon,
Fri, Sept 17 @ 10:00
New York at Wash,
71 - 59
Wash at New York,
Sun, Sept 19 @ 4:00
Sac at Wash
67 - 63(OT)
Mystics' 2004 Record: 15-16


[ Theater ]
Is downloading MOV's your favorite pastime? Then check out one of the largest collection of Chamique Holdsclaw Videos on the web.

[ Guestbook ] [ Mique Board
]
Leave messages for Chamique and others to see.