Chamique's Grandmother - June Holdsclaw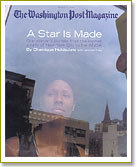 Chamique went to live with her grandmother in 1988, when she was 11 years old, after her parents split up.

June Holdsclaw offered a stable environment, a structured home and a dedication to her granddaughter that Chamique thrived on.
"I have four grandchildren . . . and I love them all and talk to them all, but it's been different with Chamique, because we've been together so much. Sometimes I forget Chamique is my granddaughter and I call her my daughter."

--The Late June Holdsclaw--
June worked as a hospital records clerk and also took part-time jobs to ensure that her granddaughter could attend private schools and get a good education. She set rules and expected Chamique to follow them.
Two years later, she had the option of returning to live with her mother, but Chamique liked the quiet discipline of her grandmother. She was doing well in school, was participating in after-school activities and was beginning to hone her game on some of the most competitive courts in the city. She maintained a close relationship with her mother, but opted to stay with her grandmother in Astoria Houses, a sprawling housing project of high-rise buildings along the East River.
"College level, sure I've dominated here, but I want to take my game to the next level," Holdsclaw said. "And I knew, in order to do that, it was basically all about strength. I mean, as a basketball player, I believe that you refine your skills. You really just don't get that much better. You already have that skill, but you have to do other things to make you better, and I know for me that was to get stronger."
Holdsclaw played basketball nearly every day, sometimes until 1 a.m. She learned new moves, competed against guys and usually drew a crowd of people, especially children, who wanted to see the hometown hero.
Holdsclaw has become an icon in Knoxville -- the home of the Lady Vols and a hotbed of women's hoops -- where she is asked to sign autographs everywhere she goes, including the local malls and restaurants. But she was not prepared for the attention she received in New York, a city accustomed to seeing stars. Even in Manhattan, she couldn't walk down the street without being stopped by a well-wisher who wanted to talk basketball.
On Aug. 20, a few days before the start of fall classes, Holdsclaw left Astoria Houses and returned to the Knoxville apartment she shares with a UT women's track athlete.