Holdsclaw One Of The Best Ever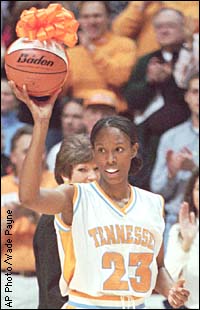 No one questions whether Chamique Holdsclaw is the best player in women's college basketball. In two seasons, she has led Tennessee to two national championships, earning first-team All-American honors both years.
As she enters her junior year, the question surrounding Holdsclaw isn't if she's the best right now but where she ranks all time.
"She's the best player since Cheryl Miller," said Arizona coach Joan Bonvicini. "She's the best player in the country. She's just a winner who can carry a team. She can do everything - the Michael Jordan of women's basketball."
Back